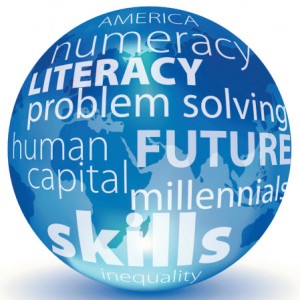 According to the Educational Testing Service's (ETS) January 2015 report, American Skills Challenge: Millennials and the Future,
"Millennials [ages 16-34 years old] may be on track to be our most educated generation ever, but they consistently score below many of their international peers in literacy, numeracy, and problem solving in technology-rich environments (PS-TRE)."
Does that scare you?! If not, it should. Even more troubling, this issue is pervasive across millennial demographics:
"These findings hold true when looking at millennials overall, our best performing and most educated, those who are native born, and those from the highest socioeconomic background."
This means despite being the most formally educated generation with mastery of recreational and social technology applications, U.S. millennials lag globally in fundamental basic skills (The Three Rs) and using technology applications to solve workplace problems. Specifically, how are these workplace skills defined?
Literacy is the ability to understand and use information from written texts in a variety of contexts to achieve goals and further develop knowledge and potential.
Numeracy is the ability to use, apply, interpret, and communicate mathematical information and ideas.
Problem-solving in technology-rich environments (PS-TRE) is the ability to use technology to solve problems and accomplish complex tasks. It is not a measurement of "computer literacy", but rather of the cognitive skills required in the information age – an age in which the accessibility of boundless information has made it essential for us to be able to work out what information we need, to evaluate it critically and to use it to solve problems.
What does that mean to us — to you and me as business owners, executives, educators or policymakers? It means an entire generation of employees are entering our American workplaces without the foundational skills to meet basic employer expectations. If you read any recent job posting, employers seek and expect human capital that is
high-performing
innovative
responsible
collaborative
contributing
team players who don't make excuses
and complete high quality work — on time and on/or under budget
Failure to solve this human capital problem will become catastrophic to American competitiveness within the global economy, and the notion of American exceptionalism. Policymakers, employers, educators and the employees themselves are the crucial stakeholders involved in the problem.
~Gina